VBS Molecular Diagnostics
While tissue and molecular diagnostics allow for very successful targeted therapy approaches for cancer treatments, such diagnostics with PAH disease are unable to verify the earliest changes in the pulmonary vasculature, identify specific abnormalities expressed in an individual patient, nor evaluate the success of our treatment at the level of the affected tissue.
Percutaneous pulmonary endoarterial biopsy coupled with histologic and molecular analysis represents a potential new paradigm for diagnosis and potential treatment of vascular-based disease. This analysis could identify novel applications for existing and new drugs to treat these diseases. The detection of stage- and disease-specific variation in gene expression could lead to individualized therapies.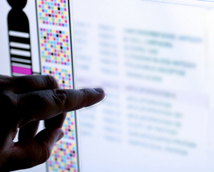 In addition to obtaining pressures, cardiac output, calculation of pulmonary vascular resistance, angiography, and vasodilator testing, endoarterial biopsy with histologic and molecular analysis would add an entirely new dimension of biologic information to aid in the diagnosis and choice of therapy. VBS Molecular Diagnostics provides specialized expertise in endoarterial biopsy analysis in order to maximize the information extracted from endoarterial biopsies, and present endoarterial biopsy analysis results in a clear and understandable format.
Endoarterial biopsies obtained percutaneously with VBS Interventional's endoarterial biopsy catheter are analyzed on whole genome microarrays and further processed using bioinformatics and data mining software to produce a comprehensive profile of vascular disease and a customized prescription list of currently approved drugs that target upregulated disease genes.
Individualized molecular diagnostic profiling will allow for faster and more definitive diagnosis, better matching of treatment to disease, personalized and targeted therapies, as well as the anticipation of adverse health events.
VBS Molecular Diagnostics also engages in novel biomarker identification and validation and in vitro diagnostic kit development.
For more information about VBS Molecular Diagnostics please contact us at diagnostics@vascularbiosciences.com
Disclaimer: The material provided on this site is strictly for informational purposes. Do not use this site as a substitute for medical care or medical advice. Please consult with your physician or other medical care provider regarding any medical questions you may have.