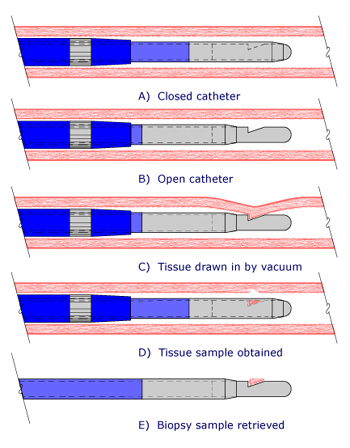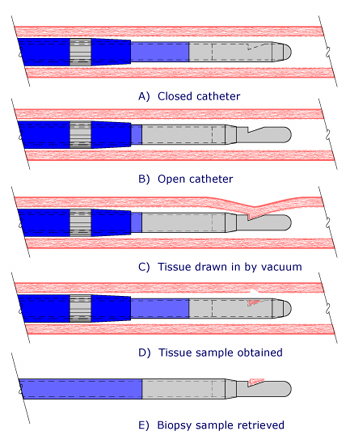 Schematic sequence of the biopsy sampling procedure. The biopsy catheter consists of two flexible polymeric tubes that slide with respect to each other. The inner tube has a stainless steel distal end with a beveled opening that accommodates arterial tissue. The outer tube terminates in a stainless cutting tube. (A) The catheter is placed in a distal pulmonary artery branch with the outer tube covering the inner tube. (B) The outer tube is pulled back, exposing the beveled opening on the inner tube. (C) Endoarterial tissue is drawn into the beveled opening by the vacuum. (D) The outer tube is advanced over the inner tube, severing the tissue sample. (E) After the catheter is removed from the body, the outer tube is retracted back, exposing the retrieved tissue sample
Next Steps:
WARNING: Investigational Device. Limited by Federal law to investigational use. This device should be used only by physicians with a thorough understanding of percutaneous interventional procedures and training in the use of the endoarterial biopsy catheter.
DISCLAIMER: The material provided on this site is strictly for informational purposes. Do not use this site as a substitute for medical care or medical advice. Please consult with your physician or other medical care provider regarding any medical questions you may have.