Peripheral Vascular Disease
Atherosclerosis of the peripheral arteries is the principal cause of gangrene of the extremities and lower leg amputations.
The medical care of peripheral vascular disease patients could be improved by customizing therapy according to each patient's vascular disease characteristics as revealed by endoarterial biopsy.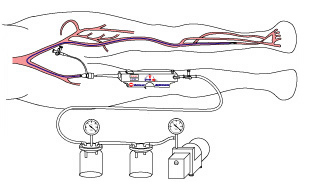 The endoarterial biopsy catheter also provides opportunities for drug discovery and molecular diagnostics development for peripheral vascular disease patients. Arterial biopsies can also be used to explore the molecular mechanisms involved in disease formation and progression. Knowledge of these molecular pathways will enable the identification of new drug candidates and novel diagnostic indicators of this debilitating disease.
For peripheral vascular disease patients requiring arterial conduits for bypass or re-bypass surgical procedures, the endoarterial biopsy catheter could obtain arterial cells via a minimally invasive technique for the cell culture seeding of autologous vascular grafts composed of the patient's own tissue.
WARNING: Investigational Device. Limited by Federal law to investigational use. This device should be used only by physicians with a thorough understanding of percutaneous interventional procedures and training in the use of the endoarterial biopsy catheter.
DISCLAIMER: The material provided on this site is strictly for informational purposes. Do not use this site as a substitute for medical care or medical advice. Please consult with your physician or other medical care provider regarding any medical questions you may have.