VBS Interventional
The Endoarterial Biopsy Catheter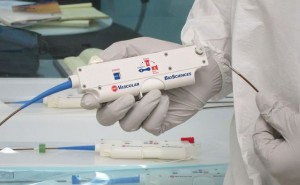 VBS Interventional has recognized the unfulfilled need for a safe and effective method of obtaining arterial tissue samples from patients; and in response, we have developed the endoarterial biopsy catheter for the study, diagnosis, monitoring, and treatment of vascular-based diseases. The endoarterial biopsy catheter will provide physicians with the ability to percutaneously obtain biopsy specimen from the inner layers of the arterial wall.
The successful implementation of the endoarterial biopsy catheter will enable patients to receive tailor-made treatments for pulmonary hypertension based on diagnostic tests of tissue samples taken by the endoarterial biopsy catheter. Our understanding of pulmonary arterial hypertension (PAH) and the factors that cause progression of PAH will be transformed by the information garnered from our interventional device, and analyzed by our diagnostic services using histopathological, genomic, and proteomic methods.
The catheter will provide a means for monitoring therapeutic interventions, optimizing medical management, customizing diagnosis and therapy, and anticipating future adverse events through the early identification of disease markers in arterial biopsies from patients. Information contained in arterial biopsies identifies proteins and receptors involved in vascular-based diseases, which can also be used in pharmaceutical drug discovery and development.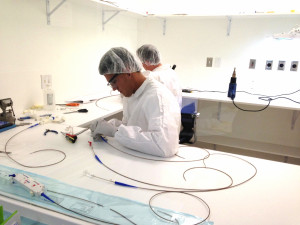 The arterial biopsy catheter has successfully and safely obtained endoarterial biopsy samples over 800 times without invasive surgery. Biopsy specimens have been made into histological preparations and examined under a microscope and have also been used as parent tissue for cell cultures. The mRNA levels of biopsy specimens have been quantitated by reverse transcriptase polymerase chain reaction. Single endoarterial biopsy samples have provided sufficient tissue for whole genome microarray analysis.
Potential benefits of the Endoarterial Biopsy Catheter include:
Minimally invasive non-surgical procedure
Improved diagnosis of disease
Earlier intervention, before occurrence of advanced vascular remodeling
Anticipation and avoidance of future adverse events through the early identification of biomarkers
Better matching of treatment with disease, customization of therapies
Pathological monitoring of patient response to therapeutic interventions
Comprehensive profile of patient's vascular pathological, cellular, molecular and genetic profile
Increased patient survival and quality of life
Decreased patient costs to third-party payers
More precise patient selection for clinical trial recruitment
Drug discovery and novel biomarker identification
Precisely target drugs to specific proteins and receptors found in biopsies of diseased vasculature
Patient arterial tissue for novel arterial therapies
WARNING: Investigational Device. Limited by Federal law to investigational use. This device should be used only by physicians with a thorough understanding of percutaneous interventional procedures and training in the use of the endoarterial biopsy catheter.
DISCLAIMER: The material provided on this site is strictly for informational purposes. Do not use this site as a substitute for medical care or medical advice. Please consult with your physician or other medical care provider regarding any medical questions you may have.