Endoarterial Biopsy Procedure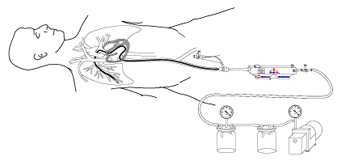 Endoarterial biopsy catheter procedural configuration. The biopsy catheter is connected externally to a vacuum source consisting of two suction canisters in series with a vacuum pump. The endoarterial biopsy catheter is directed to a desired sampling site through a long 8F sheath, which is placed by percutaneous technique via femoral access and advanced through the right heart into a distal pulmonary artery branch for pulmonary arterial biopsy.
Next Steps:
WARNING: Investigational Device. Limited by Federal law to investigational use. This device should be used only by physicians with a thorough understanding of percutaneous interventional procedures and training in the use of the endoarterial biopsy catheter.
DISCLAIMER: The material provided on this site is strictly for informational purposes. Do not use this site as a substitute for medical care or medical advice. Please consult with your physician or other medical care provider regarding any medical questions you may have.