At Vascular BioSciences, we make it a priority to concentrate our research and development efforts to areas where we can provide meaningful contribution to patients possessing significant, unmet medical needs. Through major research efforts across multiple product lines — including targeted pharmaceuticals, interventional devices, and molecular diagnostics — VBS is developing targeted solutions for serious diseases. We are dedicated to delivering innovative biomedical technologies that will benefit patients in need around the world.
In May 2015, Vascular BioSciences was voted by its industry peers as having the most promising pipeline in the biotechnology industry. Our current product pipeline is divided into three areas: CAR Adjuvant, CAR Liposomes, and Endoarterial Biopsy (EABx) Catheter.
CAR peptide is a 9-amino-acid cyclic peptide that selectively targets and penetrates diseased tissues, while selectively augmenting the efficacy of therapies. Indications of pulmonary hypertension, sepsis, gene therapy, kidney disease, and cachexia, could prompt the use of CAR adjuvant. Our lead indications for CAR peptide are pulmonary hypertension for chronic use, and sepsis for acute treatment.
VBS is also developing a targetable and inhalable formulation of the two drugs fasudil and DETA NONOate (DN) — a rho-kinase inhibitor and a nitric oxide (NO) donor, respectively — as a novel treatment for pulmonary hypertension. This combination therapy will encapsulate both drugs in liposomes modified with CAR peptide, to accumulate preferentially in hypertensive pulmonary arteries. In a series of preclinical studies, collaborators have demonstrated that CAR-modified liposomes containing fasudil and DN reduce the mean pulmonary arterial pressure (mPAP), which ameliorates various features of pulmonary arterial remodeling. Additional studies will lay the foundation for an FDA IND application and clinical translation of this combination therapy; it will also establish CAR-liposomes of fasudil-plus-DN as a novel and inhalable therapeutic option for pulmonary hypertension patients that will: a) specifically target the hypertensive pulmonary vasculature, and b) provide synergistic therapeutic benefits through both the Rho A/Rho kinase and NO donor pathways, without the additive adverse side effect of systemic vasodilation.
Recently, Vascular BioSciences received a Humanitarian Use Device (HUD) designation from the FDA for its Endoarterial Biopsy (EABx) Catheter to take pulmonary artery biopsies in patients who have Group 1 pulmonary arterial hypertension. The HUD designation establishes the EABx Catheter as a medical device intended to benefit patients in the treatment or diagnosis of a rare disease. We are currently working on submitting an application for a Humanitarian Device Exemption (HDE) approval from the FDA for the use of the EABx Catheter in Group 1 pulmonary arterial hypertension patients.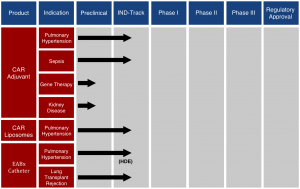 Next Steps: